For the character, see Maya Fox (character).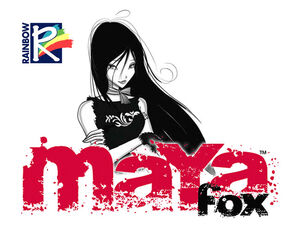 Maya Fox is a series of comics and novels from Rainbow SpA, an Italian studio that is well-known for its cartoon Winx Club. The series was co-created by Silvia Brena and Iginio Straffi (creator of Winx Club). Straffi also designed all of the series' characters, who are always shown in black-and-white.
The main character of the series is Maya Fox, a young British woman who has the disturbing power to talk with the dead. She races against time to unravel a mystery surrounding the end of the world. To make matters even worse, the serial killer who murdered Maya's father has escaped from prison and is out to get her.
In Italy, Maya Fox made its debut on 28 October 2008, just before Halloween. The first novel and an excerpt from the first comic issue were published together on this day. The series ended in 2011, after three sequel novels and twelve issues of comics. Other Maya Fox merchandise was also made by Rainbow.
In a 2008 interview with Affari Italiani, Iginio Straffi revealed plans for both a Maya Fox movie and a TV show. Both projects were put into production, and in a 2010 article, Silvia Brena stated that the movie was set for a release date in late 2011. Both adaptation projects were left unfinished.
Characters
The leading characters are Maya Fox; her love interest, Trent Grave; her best friend, Flo Crumble; her father, David Fox; and her mother, Megan Moore Fox.
Credits
Iginio Straffi – co-creator, co-director, character designer, story supervisor, art supervisor
Silvia Brena – co-creator, co-director, story supervisor
Elena de' Grimani – inks
Vincenzo Nisco – art supervisor, penciller
Giulia Basile – colors
Paolo Maddaleni – colors
Nicola Pasquetto – colors
Giorgio Viola – colors
Red Whale (Francesco Artibani) – lettering
Credits adapted from the comic magazine's list of artists.