The Magic Square (Italian: Il quadrato magico) is the second book in the Maya Fox novel series by Rainbow SpA. Like the other three books, it was based on characters created by Iginio Straffi and was co-written by Straffi and Silvia Brena.
The book was first published in Italy in November 2009.
Summary
Maya has survived an assault by a serial killer, but the darkest night of her life has not arrived yet. Maya's father, the murdered astronomer, tries to warn "his little girl" about a danger looming over her. Maya becomes obsessed with a disturbing date: the 21st of December, 2012, the day on which the world is prophesied to end. To complicate things even further, a suave young man suddenly enters Maya's life, and he is the only one who knows about her secret powers. Who is the dark puppeteer behind every mystery? And above all, why is Maya the predestined one? Perhaps the truth is all in the numbers of a magic square.
Back cover
The original Italian edition has the following quote on the back cover:
Correva e il destino rincorreva lei.
Dietro di sé, il rantolo forte e regolare della bestia che la voleva prendere.
Davanti a sé, le sirene della polizia.
Della sua salvezza.
In English, the quote translates to "She ran and destiny chased after her. Behind her, [she heard] the strong and smooth death rattle of the beast that wanted to take her. In front of her, [she heard] the police sirens. Of her salvation."
Trivia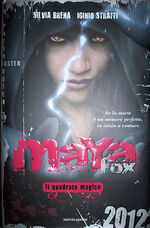 The cover photo on the Italian re-release edition was taken by Tansie Stephens.
Publishers in other countries
Brazil: Editora Planeta
France: Pocket Jeunesse
Portugal: Editorial Presença
Spain: Ediciones Destino